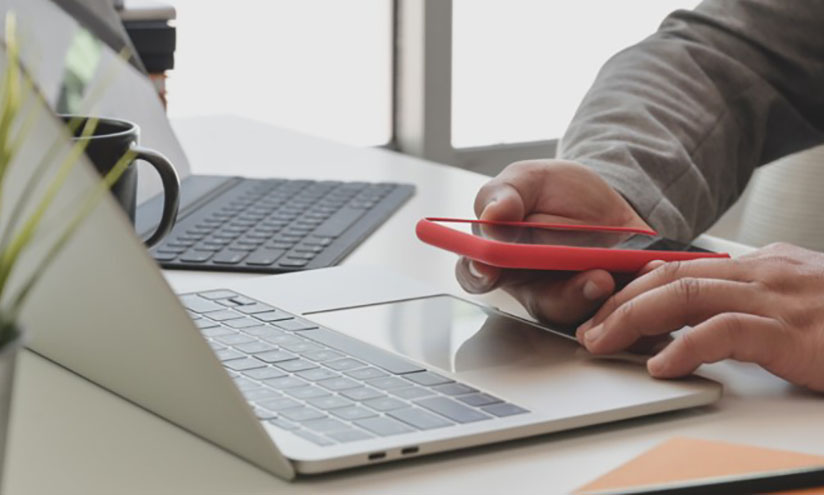 The impact of COVID-19 on businesses has been massive. For many, these uncertain times have significantly impacted offline and online demand, especially following government lock-down measures.
The situation is ever-evolving, and like almost everyone out there, we can't predict what's around the corner. What we can and want to do is provide our opinion on what businesses can do when it comes to digital marketing, so that where possible they can survive and thrive through the turbulent times ahead.
Digital focus
With the majority of countries following social distancing measures, most businesses are now focusing on digital commerce and marketing over traditional channels. Traditional advertising such as print, outdoor and sponsorship placements will likely remain unseen in the coming weeks.
Most in the industry are predicting an increase in digital marketing spend, as consumers self-isolate and spend more time online. Isolation and 'lock-down' periods mean most will be unable to shop in-person for non-essential items and will have to turn to digital channels.
Search Ads & Google Shopping
Online and Google shopping ads are likely to experience a boost in performance as consumers self-isolate. Google Trends shows a sharp increase in search interest for the term 'online shopping' in the past 30 days, a sign more people are shopping online where possible.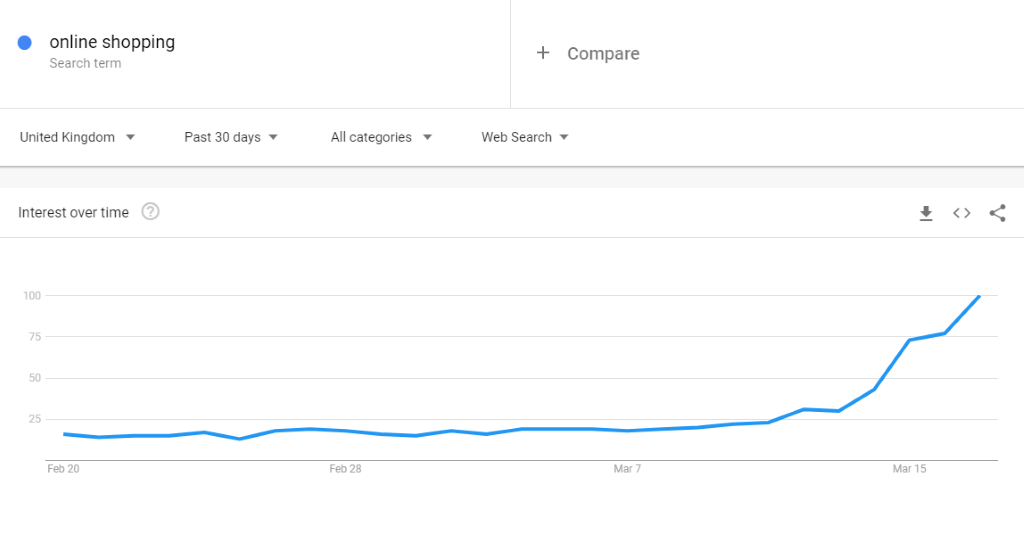 As always, we continue to monitor the performance of our clients' PPC campaigns daily. Campaign keywords are continually monitored and, if we identify opportunities, alternative strategies will be proposed. Negative keyword lists for all campaigns are also actively monitored to prevent PPC campaigns from wasting media budget on irrelevant or non-converting traffic.
Mobile performance is key right now. As people start to spend more time online on devices such as smartphones, there may be an opportunity to assign more media budget to mobile devices, shopping or display ad placements.
Businesses that can provide online or delivery services should review keywords related to this to see if there is an opportunity to be more visible in paid placements. There is also the opportunity to change and test new bid strategies to make the most of increased or decreased demand.
As well as campaign optimisation, businesses should consider prioritising CRO (Conversion Rate Optimisation). If demand or traffic falls the testing and optimising of campaigns and landing page elements, such as layouts, messaging or forms, may identify opportunities to improve conversion rates.
Social Media Opportunities
Time spent on mobile phones and social media platforms is likely to increase. A recent study found an increase of 76% in daily accumulated likes on Instagram posts marked as #ad in the past two weeks.
As more of us self-isolate, there is likely to be more opportunity for B2C and B2B businesses to reach target audiences using paid social media ads. Platforms like Facebook, Instagram and LinkedIn provide the opportunity to target users based on a range of demographic, interest, employment and location data points.
B2B businesses that previously relied on networking or conferencing environments should test if channels such as LinkedIn Advertising can be used to reach target audiences that they would previously have connected with face-to-face.
Local businesses looking to implement delivery services should consider Facebook or Instagram advertising. Both channels are visual and campaigns can be hyper-targeted when it comes to location and demographic targeting.
Social media can also be used to market to existing customers. Most platforms, such as Facebook provide the facility to upload customer data lists. This feature is particularly useful for businesses trying to inform existing customers of new ways to continue purchasing during lock-down periods.
Social media channels can also be used to keep current followers informed as to what is happening in this period of uncertainty and to reassure those with existing orders.
SEO
Many businesses, in a wide variety of sectors, have seen a decline in organic traffic as a result of COVID-19.
SEO is a long-term marketing strategy. The effects of SEO are normally not instant and the work you put in now provides uplift in months to come. This is why stopping SEO activity now may make it harder to recover when traffic and the markets begin to improve. For example, creating a high-quality SEO optimised content piece now may not provide an instant boost in traffic but will help to support your organic visibility in future, and for years to come.
If organic traffic and search demand declines as a result of COVID-19, SEO strategies can be updated to make sure you get the most 'bang for your buck' when demand starts to increase, and the markets start to recover. Pausing activity now could mean that when the recovery starts, businesses find themselves behind competitors who continued SEO activity.
SEO is about more than just appearing in search results – it is about maintaining technical website health and making sure websites are in the best position for search demand change, search engine updates and algorithm changes. Now is the time to make sure your website is as search engine friendly as possible.
Existing customers
Now is not the time to lose touch with existing customers. During times like these businesses need to ensure that current customers know what's happening through marketing channels such as blogs, social media and email.
Marketing automation can make staying in touch with current and new customers easier and more efficient. With the right audience segmentation, channels and approach you can share the right messages at the right time, which can help improve traffic levels and conversion rates.
Working together
At times like this good communication and collaboration is as important as ever. What the world is experiencing right now is overwhelming, but by working together we can find solutions and develop strategies that look to make the best of what is happening.
If you would like to discuss anything mentioned in this article, or how we could help to support your business don't hesitate to contact us.