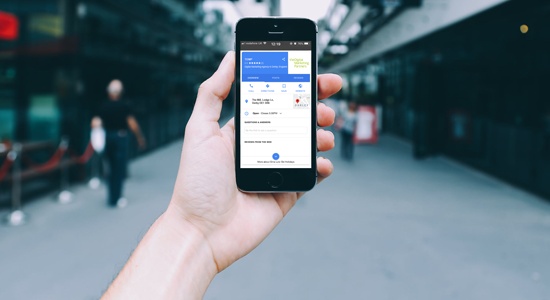 Google takes into account many different factors when it decides which businesses and websites rank for search queries. In recent years the biggest influence on local search results has been Google My Business (GMB). GMB is a free Google tool which allows businesses to improve and manage their online presence for consumers searching for local services and products.  
A GMB listing provides searchers with key information about your business – including; website links, phone numbers, business addresses and a map showing your location. For businesses with physical locations – a 'get directions' button also appears within listings, providing potential customers with guidance on how to reach you using Google Maps.
According to Google, businesses with a verified GMB listing are twice as likely to be considered as a reputable business by customers compared to those who don't. Studies show that 86% of smartphone users took action upon seeing a GMB listing, with 47% of those completing an action within just one hour.
As with any search marketing activity, simply having a GMB listing is not enough. To make sure you appear for relevant, local searches you need to make sure your listing is optimised.
✔ Business Address Details
Your GMB listing must include a business name, address and phone number – this should match the contact information provided on your website. As with all online listings, you should make sure all your contact information across all online listings match – as any discrepancies can cause issues and harm your overall rankings.
Even the smallest difference in contact information and address can cause issues, for example if one address shows 'St.' and one shows 'Street' this would count as a difference to search engines.
✔ Company Category & Specific Location
Choosing a precise business category is key to a GMB listing and determines where your listing will appear. Relevance is one of their most important ranking factors; the more specific you can be, the more likely you are to be visible for the right local searches.
The same is said for your business location, Google takes location and proximity into account when it comes to deciding what your location appears for local searches –not getting it right can result in your listing dropping.   
✔ Local Telephone Code
If possible, it's recommended your GMB phone number has a local area code. This is another way to show Google you are in the location given and can help boost your ranking for local searches.
✔  Opening Hours
Adding business opening hours to your GMB listing helps make sure potential customers know when they can visit or make contact – helping to avoid unnecessary journeys or phone calls. Businesses can also add 'special opening hours' during holiday periods like Christmas.
✔  Website URL
A GMB listing provides searchers with a direct link to your website. Businesses can also include links to specific website pages like 'menus' or 'booking forms' – if relevant.
✔  Imagery
GMB listings with photos get twice as much interest as those without. We recommend you upload at least 3 images, making sure they are relevant and of good quality, as they will give a great first impression to new and potential customers.
Your GMB listing should include your logo and images of your; products or services, location, team and customer facilities (like a car park).
✔  Reviews
Positive reviews are essential to helping a GMB listing appear for local searches. Whenever you can encourage your customers to leave a review of your business, especially if you know they've had a good experience with you.
There are ways to increase reviews, for example, a business which does business face-to-face could hand happy customers a business card with information on how to leave a review.
✔  Verify your listing
Once you've created and submitted your listing, you need to get it verified.
A GMB listing needs to be 'verified' – without this, ranking for local searches can be almost impossible. The best way of verifying a listing is to request a Google verification code, which will be sent to your business location via a postcard. This method of verification helps make sure that listings are genuine as the code will be sent to the address on the listing itself.
Optimising your GMB listing is one of the first steps you can take in developing your local search visibility, but to make a big difference there are other things you should do. Optimising your website content, implementing a backlink campaign and making sure technical elements of your website are SEO optimised are all important to improving the visibility of your brand and website to the right potential customers.  Call us today to discuss improving your website's online visibility.