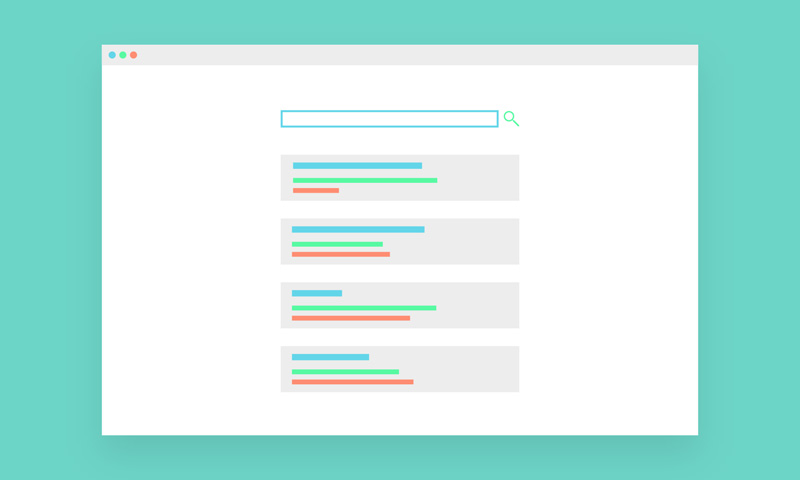 PPC and SEO are two highly effective search marketing strategies that often operate independently of one another using different techniques to improve brand visibility and increase conversions.
But did you know integrating your SEO and PPC campaigns can improve performance and provide valuable insight for future campaigns?
Keep reading as we discuss the ways in which PPC and SEO strategies can work together to get the most out of your marketing efforts and break silos in your marketing teams.
SEO vs PPC: the key differences
PPC: Pay Per Click is advertising where businesses run ads for a price to increase awareness of their brand and conversions. PPC uses a variety of ad formats, including paid search, which appears in the top results of a search engine's results pages (SERPs). PPC is a highly targeted strategy which offers an abundance of data. More about PPC here.
SEO: Search Engine Optimisation is the process of optimising a website and its content in order to rank higher in SERPs. It can take anywhere from 3 to 6 months to see any real results from SEO and is therefore considered a long-term strategy. SEO uses website content and optimisation techniques to increase a website's authority and help it climb up the ranks in SERPs. Organic traffic is often considered quality, and users consider organic search results as more trustworthy. More about SEO here.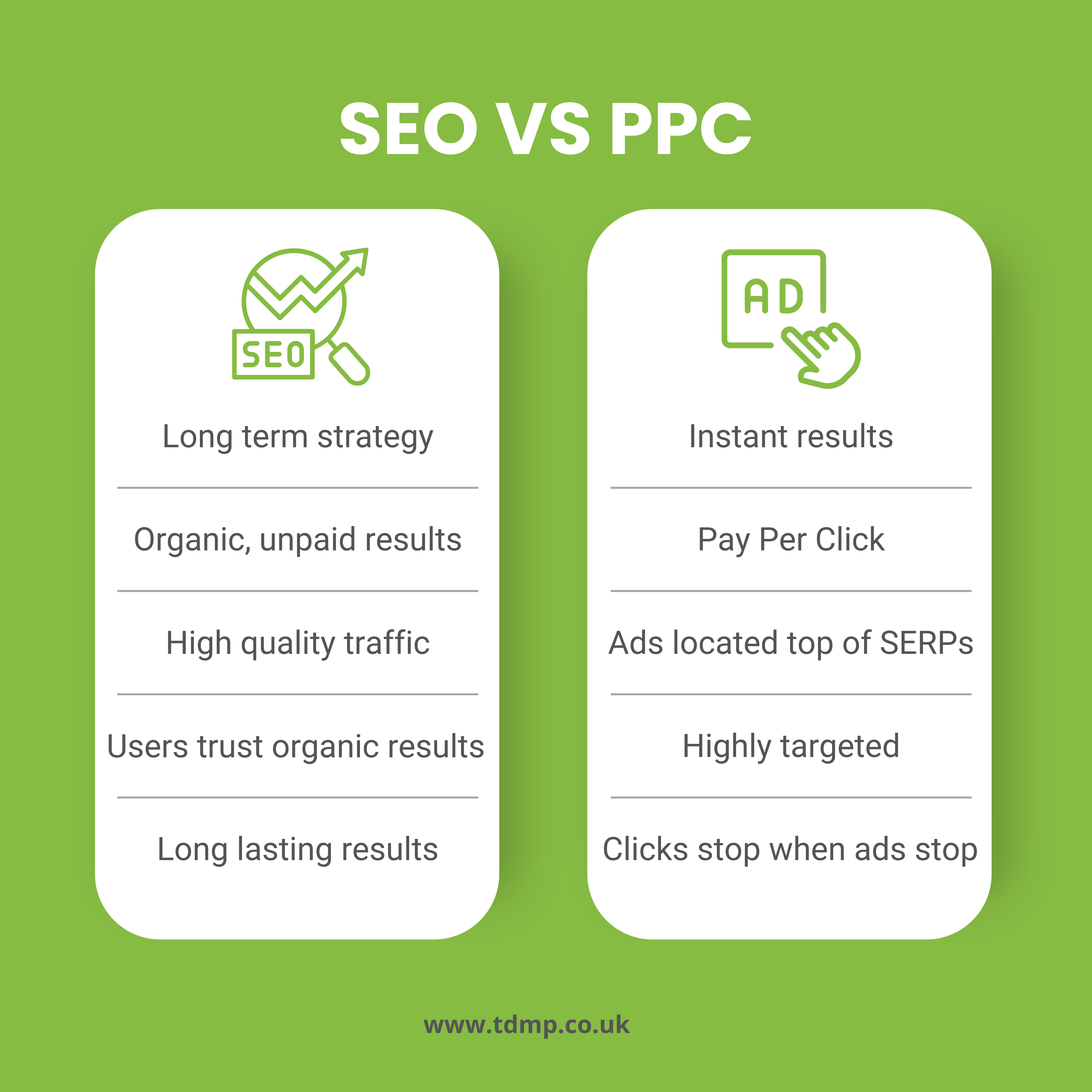 Similarities between SEO and PPC
Despite their differences, both PPC and SEO strategies fundamentally share the same objectives: to increase brand visibility, website traffic, and conversions.
They do this through targeting relevant keywords with either paid search ads or website content.
As a result, the two work well together to improve performance and maximise the return on investment.
The benefits of integrating your PPC and SEO campaigns
Integrating your PPC and SEO campaigns are beneficial for a number of reasons. 
Remove silos in your marketing team
Integration will help marketing teams to avoid incomplete data sets, improve data quality, and be more responsive to opportunities.
Maximise ROI
By combining tactics to inform each strategy, an integrated approach can maximise the investment of marketing activities by boosting the performance of each. For example, SEO tactics can inform PPC strategies – such as landing page optimisation. PPC tactics can guide SEO strategies – e.g. keyword insights.
Increase visibility online & chances of conversions
Having PPC and SEO campaigns work simultaneously ensures that your brand is appearing via both channels – meaning customers are more likely to see your brand and therefore more likely to convert.
Stabilise fluctuations
SEO ranking can fluctuate depending on various factors, including Google updates or external events. Integrating an SEO campaign with PPC can help to mitigate fluctuations and retain visibility.
Combat seasonality
In a similar thread, some fluctuations can be based on a reduction in seasonal demand. An integrated approach to SEO and PPC can identify seasonal demand quicker and reduce its impact by keeping your brand visible even during quieter seasons. More on navigating seasonal demand with SEO here.
How PPC and SEO can work together
So now the question is how can you make your PPC work for your SEO and vice versa?
1. Optimise SERP coverage
Search Engine Results Pages (SERPs) are becoming more diverse – with many different features (and opportunities) – in which to appear for potential customers.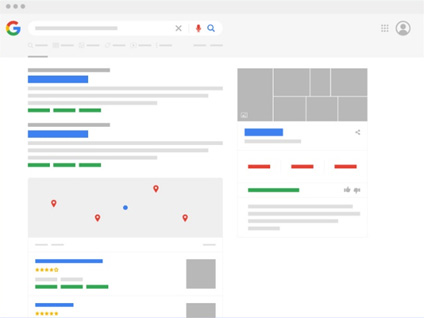 For PPC – Paid search ads appear at the top of SERPs. Other paid features include shopping ads.
For SEO – Organic search results appear below search ads. Other features include – Google My Business profiles, People Also Ask, and Featured Snippets.
Fortunately, when integrating SEO and PPC campaigns, the more they work together, the better SERPs coverage your brand will have.
PPC takes care of the top of the SERPs page whereas SEO covers the organic results below it. So, if your customer skips over the paid, there will still be organic results to recover a potential conversion.
Not only this, but an integrated approach can help to optimise your brand's SERP coverage for the best value.
For example, if your SEO strategy is dominating for certain keywords with little competition, then feeding this information back to your PPC team will indicate that media spend can be used elsewhere.
Likewise, if you notice that your competitors' ads are appearing high up, but their organic results are non-existent for target keywords, then this information can be harnessed to create targeted SEO content.
2. Inform and test target keywords
Both PPC and SEO work by targeting the most relevant keywords for your brand to improve visibility - using keyword research to identify keywords with high search demand.
By integrating PPC and SEO, you can enrich your keyword research by gaining valuable insights into what target audiences are searching, which keywords are performing the best, and which lead to the most conversions.
PPC insights are particularly relevant here thanks to their almost instant results. Using keyword conversion data, you can see which keyword led to a lead – something that is no longer offered by organic analytics – and use these keywords to inform your SEO campaign.
Instant results are also useful when testing the efficacy of certain keywords. Because SEO takes time to see results, PPC insights can help to streamline this process and remove the period of trial and error.
3. Audience targeting insights
In the same way PPC delivers instant keyword results, they also show which audiences are the most engaged. Gaining audience insights and feeding this back to the SEO campaign can be invaluable for content creation.
Knowing who your consumer is can help to create buyer personas which will inform your content strategy. Read about the importance of buyer personas here.
By using Google ads' in-market audiences – you can identify real-time audience characteristics who are already searching keywords and phrases relevant to your campaign – and feed this information back to your SEO team for more targeted content.
4. Informed ad copy and website content with proven results
Knowing what messages resonate the most with your target audiences is invaluable. Both PPC and SEO can inform one another's messaging.
In PPC search ads, a variety of headlines and descriptions are used interchangeably. By testing different ad copy, calls to action and descriptions – PPC teams can identify which messages lead to the most conversions and provide valuable insights for the SEO team to use in their own content.
Likewise, pages and titles that have performed will in SEO can inform future PPC campaigns – by indicating the content and information that users are most interested in – you can guide ad copy with these same messages.
5. Optimisation of both channels
As with SEO, to achieve the top position in paid search results, you will need a high-quality website. Using SEO techniques to optimise both the website, landing page, and ads will increase the chances of your ad appearing higher in the paid results.
This can include:
Optimising ad copy based on SEO metadata recommendations (i.e. including keywords early, having a call to action, not too long).
Ensuring landing pages are optimised with good structures, internal links, keywords included strategically on your landing page – are all ways to maximise your PPC results.
Using SEO tools like Core Web Vitals to ensure landing pages open quickly and overall site health is the best it can be
Final word
If you need advice on how to integrate your PPC and SEO strategies, or simply want to find out what PPC and SEO can do for your business – get in touch today.