At their developer conference in May, Google announced plans to introduce generative AI responses to their search engine results pages (SERPs).
The announcement has received mixed responses, with some suggesting it's going to have a devastating impact on website traffic and content engagement.
Keep reading as we discuss Google's AI plans and what we predict for SEO moving forward.
So what's changing?
At their developer conference, Google announced generative AI responses will soon be included in their search results - enabling users to search complex queries and receive an AI-generated response.
This follows Microsoft Bing's suit – who, in February 2023 - added an AI response element to their search results. Users can ask complex queries, such as 'I need to throw a dinner party for 6 people who are vegetarian. Can you suggest a 3-course menu with a chocolate desert?' to which they can expect 'complete answers' according to Bing. However, since the launch, the accuracy of responses came under fire and has gone largely unreported since.
But with Google being responsible for over 90% of all searches worldwide, their latest news is causing a stir within the SEO community. 
Like Bing, Google plans to introduce a similar AI response element – giving the example that users can enter queries like: 'What's better for a family with kids under 3 and a dog, Bryce Canyon or Arches National Park?'
Google's SERPs then show a considered response, taking into account age requirements, and other constraints.
The responses will appear at the top of SERPs, and include additional website links to the right for users to dig further.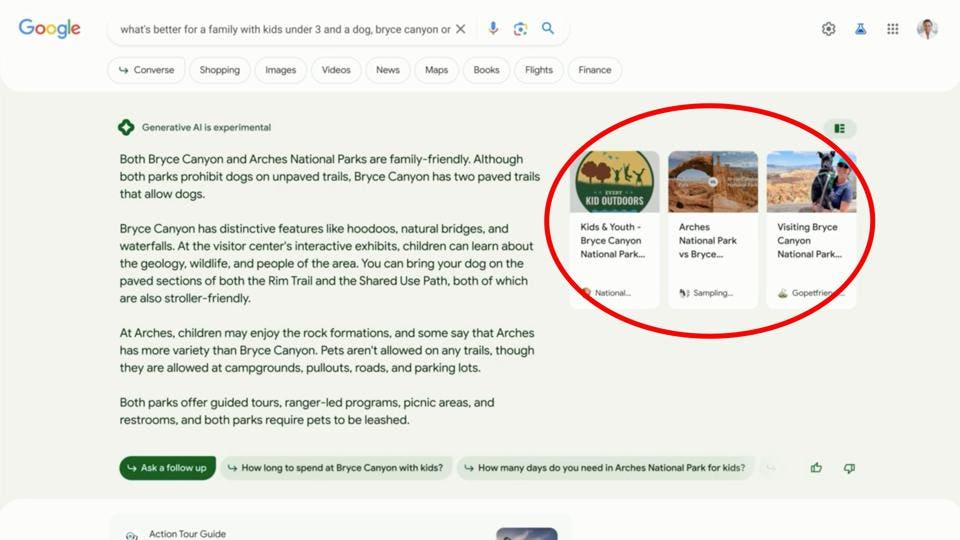 Like ChatGPT, Google's AI will scan the whole of the internet to provide responses, and this, many believe, could have serious consequences for publishers and websites.
How will this impact search?
Many industry players are concerned about the impact this new SERP feature will have on website traffic.
With users receiving nuanced responses to their questions from SERPs, the argument is that there will be little need to click through to websites to gather more information. Thus calling into question the future of many websites.
Google counters these concerns however, suggesting that the snapshot links to the right of the AI responses will drive traffic, although this is yet to be seen.
What we do know is that Google clearly wants users to stay on their SERPs, and detailed AI responses are a sure way to achieve this.
Just a new SERPs feature?
It's important to remember that similar debates were had around the arrival of Google's SERPs features such as Featured Snippets and Knowledge Panels – with many concerned that the instant information would deter users from clicking through to website content.
Whilst traffic did arguably fluctuate, content has still remained an important element of SEO – and this idea is supported by Google's endless campaigning for 'quality content' in their most recent updates. Although the cynics among us could argue this is simply for their own AI scanning purposes!
Our take
Our Head of SEO, David, weighs in on the announcement:
It looks like another SERP feature but more advanced reinforcing the content/user experience direction. Google built the business on SEO and seem to be moving further away from traditional SEO having much control over SERP display and agencies being able to optimise effectively for it.
There's always some uproar when Google changes elements of SERPs, and it's possible that this new feature might impact mobile traffic to websites in particular, as most SERPs features have done this already.
Overall visibility in SERPs, website content, usability, functionality and making use of other marketing channels might be a focus moving forward.
We expect Google might trial this on the News tab, as they're moving more closer to monetising everything they can on and off the SERPs.
What should marketers do?
Moving forward, the opportunity to appear in the links next to the generative AI results will be a great way to boost traffic if they're as effective as Google says.
Thinking about content that answers complex queries and helps with decision-making will be important moving forward, and ensuring your content continues to appeal to Google's Helpful Content criteria is another must.
We recommend monitoring search behaviour and the more complex keywords/queries that will arise as a result of the new AI addition, then using these insights to inform content to provide information that is truly useful to users.
Being aware of the possibility for AI to drive traffic away from some pages is also important, and considering alternative channels should the worst-case scenario occur. This can include promoting content via social channels, email, paid channels, and more. We always recommend diversifying your marketing channels to remove reliance on a particular channel should one ever go down.
Final word
At TDMP we continue to monitor the AI landscape, to assess its opportunities and pitfalls.
If you're concerned about AI's role in marketing or the potential for your website to be impacted by these changes, contact us today.