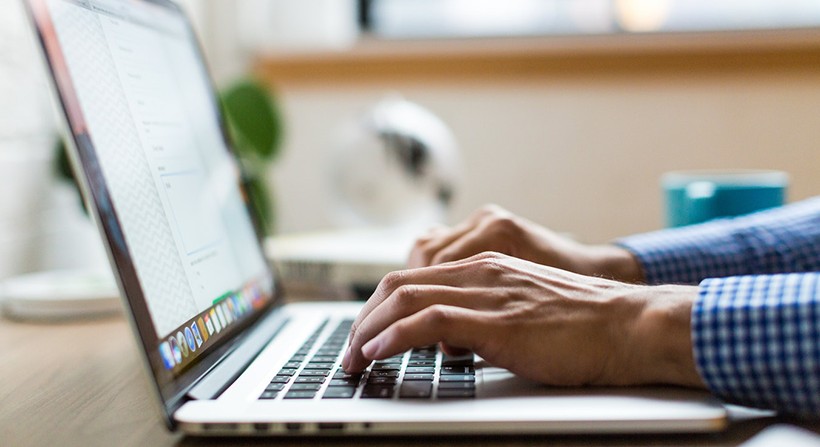 Users of Google will know that results pages now display more than just organic links and paid ads. For some search queries, advanced SERP features (or snippets) appear - and some show above the #1 organic position. This is what many in the industry are calling position zero.
Most SERP features are designed to show answers clearly and directly – which makes searching easier for those using mobile devices and voice assistants. 
Can SERP features reduce traffic?
Snippets which show direct answers can reduce traffic because those who see the answers do not need to click to view a web page. That's bad, right? Not necessarily. With the right search marketing strategy content can be optimised tactically, to prevent the loss of traffic to key conversion pages.  
SERP features guide
SERP features come in many formats. Click on the list below to see a definition, explanation and how to optimise a site or content for snippets:  
Videos
If you search for a guide or 'how to' - you will most likely see a video thumbnail in position zero. If you click on the thumbnail, you will be taken to the video on YouTube.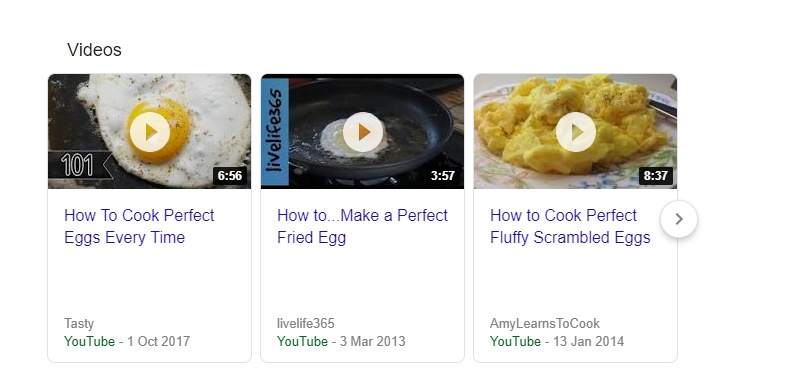 How do I make videos appear in search results?
To make a video more likely to appear as a SERPs feature - it must be optimised for YouTube. 
A video should:
Have a descriptive title
Have description text - which includes keywords 
Should be linked to from other sites (i.e. blog posts and social channels) 
If a video appears on a website page, it can also be optimised for SERPs with schema markup code. 
Images
Images appear in search results in a variety of formats. They are usually displayed in 'packs', which show images that match the search term in large blocks or horizontal rows.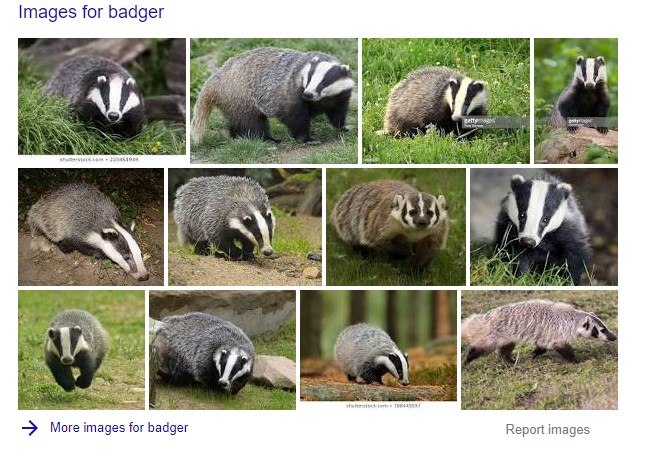 How do I make images appear in search results?
To make an image more likely to appear in SERPs, it needs to follow best practices: 
Image file names should be descriptive and should include keywords 
Images on websites should have ALT text 
The size of the image should be correct for the page it appears on 
Optimising images in this way helps Google see and know what they are – making them more likely to appear.
People also ask
The 'People also ask' snippet usually appears if a search query is a question. Google's algorithm groups questions and answers it thinks are similar. The list of related questions show in a block and can appear in various positions in SERPs.
The block features a drop-down arrow which shows the answer to the related question.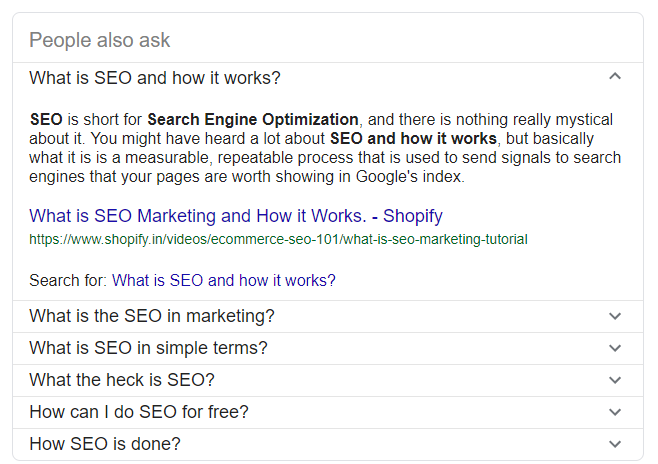 How do I appear in Google's 'People also ask'?
To appear in a 'People also ask' (PAA) snippet, website content needs to answer a question. To predict what your customers are asking, research the 'who, what, why, where' questions which include or are relevant to your target keywords. This research can be done manually – or with tools such as Google's Keyword Planner.
For the content to appear it needs to be optimised for Google and the factors it uses to determine what appears in PAA snippets: 
Page authority
Engagement metrics (i.e. bounce rate, average time on page)
The preciseness of answer (Google uses tags, and keywords to determine this)
Dictionary definitions
Google displays dictionary definitions for some search queries and keywords. It's unlikely a definition from a commercial brand would appear – but knowing if dictionary snippet is showing for target keywords can be crucial to an SEO strategy.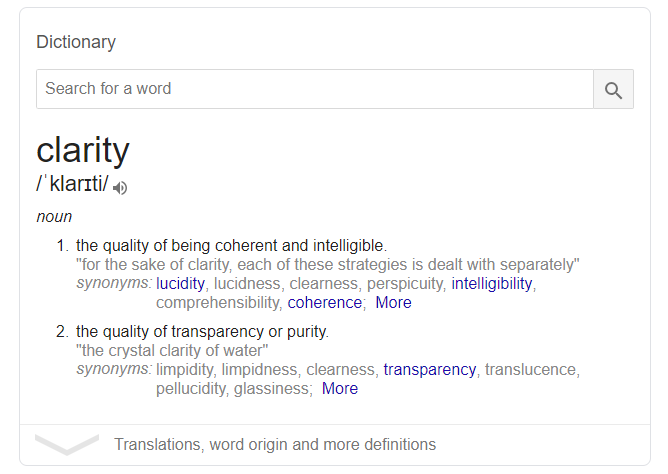 Shopping results
Google shopping thumbnails sometimes show for product searches. Google Shopping results are ads (paid or sponsored placements). If you're interested in developing a Google Shoping campaign or want to discuss how it could support an exisiting PPC strategy, contact us.  

Featured snippets
A featured snippet is also known as an answer box. It appears in position zero and usually displays a paragraph of text and an image. Featured snippets provide a good user experience, and for brands, can be beneficial because they can take up a large amount of space in SERPs. 
When a featured snippet does not appear – the 1st URL usually gets 26% of clicks. When a featured snippet is in position zero, this drops to 19.6% of clicks – with the featured snippet gaining 8.6% of clicks.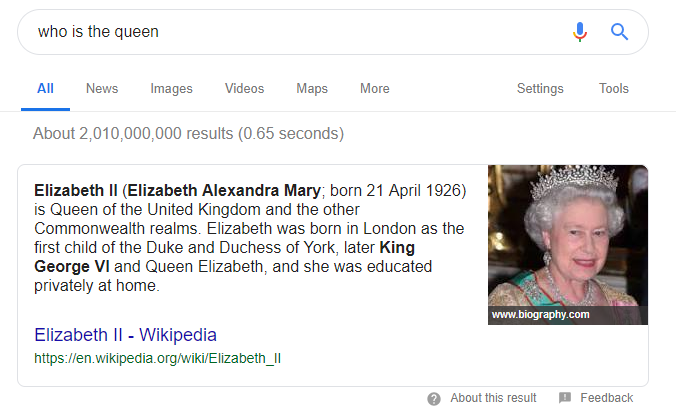 How do I appear in Google's featured snippets?
To make content more likely to appear in a featured snippet it should: 
Provide answers clearly and correctly
Be up-to-date 
Be displayed in a question and answer format 
Be engaging and easy to read – engagement metrics, such as bounce rate, can be a determining factor 
Where possible, include structured data - so Google knows how to display the content 
Direct answer box
If you ask a question which has a simple answer (i.e. a name of a public figure), it is likely a direct answer box will appear. It sits in position zero and displays an answer in a bold font. Sometimes, it also includes a picture of the answer.
Most brands are not eligible to appear in direct answer boxes. Usually, the information which displays is from sources such as Wikipedia.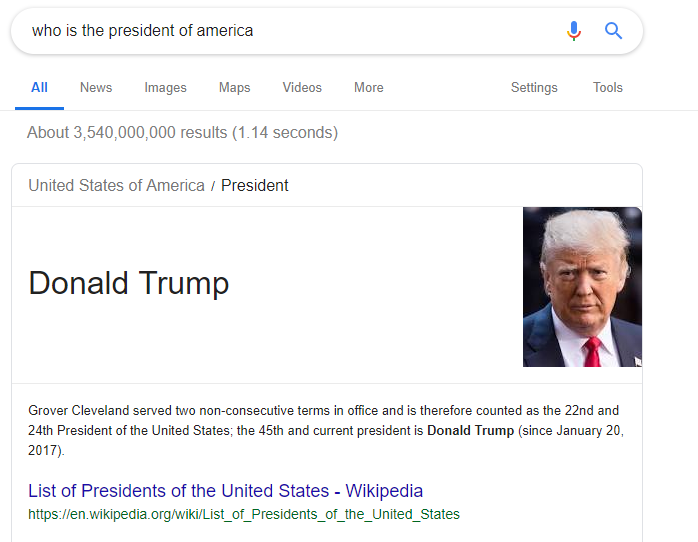 Knowledge panel
A knowledge panel displays information from Google My Business listings. It includes a business's name, image/logo, map location, description, opening times, phone number, website link and Google reviews.
How do I make my business appear in a knowledge panel?
For a business to appear in a knowledge panel, it needs a Google My Business profile. This then needs to be optimised, so it shows when someone searches for the brand's name or a service/product related to the business.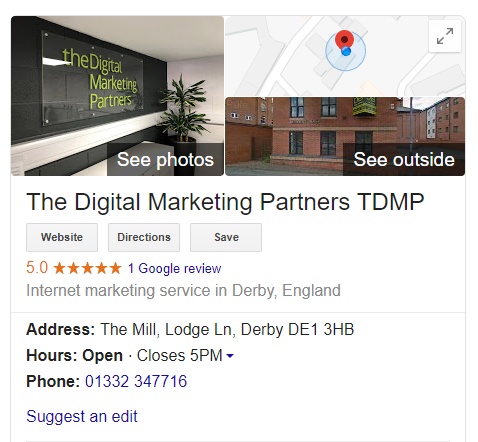 Local pack
A local pack appears as a map with a list of businesses. For example, if someone searches for restaurants in a specific location, they will see a list of restaurants in that area.
What appears for each business is based on listings – such as Yelp and Google My Business. The local pack listing is designed to show searchers what they need to make a decision – this is usually reviews, price (££) and whether a business is opened or closed at that particular time.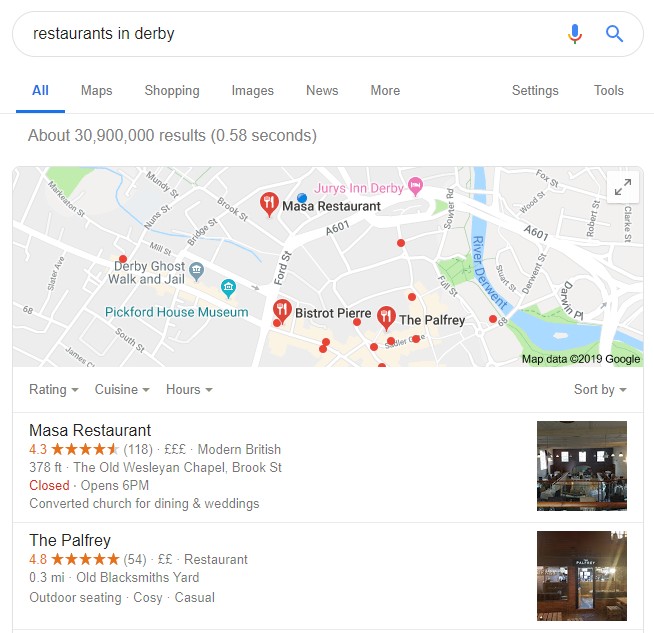 How can a business appear in local pack snippets? 
To appear in relevant local pack snippets business listings should include product or service keywords – and location information.
Rich snippets
A rich snippet looks like a regular organic listing – but features other elements which can help to increase click-through-rate. Often rich snippets display things like ratings – but can show more relevant details. For example, recipe listings may include calories – or e-commerce listings may show a price.

​​​​​​​How do I add make rich snippets appear in organic search?
To display rich snippets – Google needs to understand a website's content, so it knows what to show. To help Google (and Bing, Yahoo) understand website content – you can use 'schema markup'.
Schema markup is a type of code which helps search engines understand the kinds of content on your website and what the content means.
There is schema markup for all types of content – including:
Articles
Local businesses
Restaurants
Book reviews
Movies
Events
Reviews
Products
Creating a SERPs features strategy
If you are looking to increase organic search visibility – we can help. Our free SEO audits can identify SERP feature opportunities, for target keywords. Contact us to discuss your SEO requirements or for a free website SEO audit.