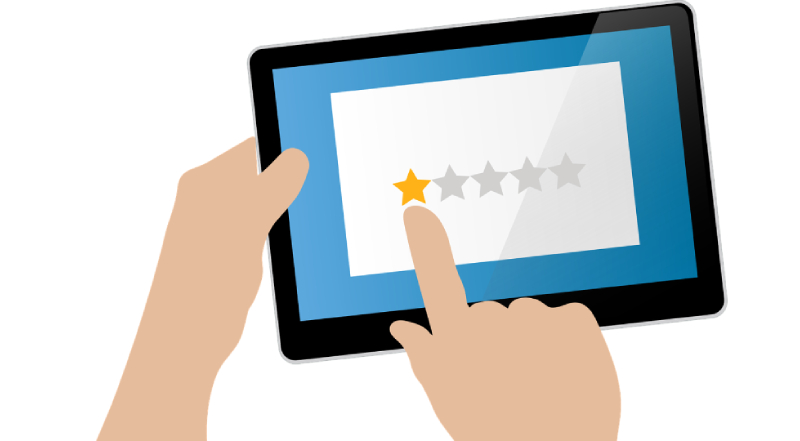 Reviews are an excellent trust signal to send to potential customers, with research showing that an impressive 54% of consumers visit a business' website after reading a positive review.
Yet despite businesses' best efforts, negative reviews can happen, and with them – fears they will damage your brand's reputation.
In this article we discuss the do's and don'ts of managing negative reviews to reduce the impact on your business, and why negative reviews aren't all bad news.
The importance of reviews
Clients often worry that opening their business up to reviews and the possibility of receiving negative reviews could cause more harm than good.
But with 72% of customers not progressing to buying stages until they have read reviews, and businesses earning 46% more revenue when they claim at least 4 review sites – it's clear that they are an important and effective way of attracting customers.
Aside from conversions, reviews also make consumers comfortable with purchasing and they increase the integrity of your brand, not to mention the positive impact they have on your website's SEO performance, making your brand more visible as a result.
Read more about why reviews matter to SEO here.
Are there benefits to negative reviews?
Whilst positive reviews are always the objective – a handful of negative reviews aren't always as bad as some think and in some cases can actually be beneficial to a business.
In fact, 95% of customers are sceptical of a business if they have 0 negative reviews, and businesses that have 15-20% negative reviews average 13% more revenue than businesses with 5-10% negative reviews.
This is because a combination of feedback communicates the authenticity of a brand. With the rise of bots and the ability to pay users to leave positive reviews, customers are largely put off a purchase if reviews seem disingenuous.
Not only this, but a mixture of positive and negative feedback gives valuable insight into a product or service, helping customers to make an informed decision and therefore increasing the positive customer experience.
What not to do if you get a negative review:
First of all, don't panic. Negative reviews can happen, and as discussed – they can even be beneficial in small doses. The important thing is that all feedback gives you the opportunity to recognise where things can be improved and show your customers you are committed to being better – which will only improve your business in the long run.
Don't delete negative reviews
Some platforms allow the editing and/or removal of reviews, although for transparency reasons it is becoming less common, but it is important not to delete any feedback – whether you agree with it or not.
An important part of reputation management is to rebuild the trust and integrity of your brand – and while controlling what feedback potential customers can see sounds like a good approach, it can be more damaging in the long term.
If a customer suspects their negative review has been removed, this could trigger a more damning review in the future which could have more serious repercussions on your business. Unless it's abusive towards yourself or your staff, all feedback is welcome – and an all-perfect review portfolio will appear suspicious to potential customers anyway.
Instead, focus on promoting the positive so that it drowns out the negative – and leave comments as they are.
Don't copy and paste your responses
It can be tempting to save time by batch replying to negative reviews with a simple copy and paste, but this can signal to customers that you're disinterested in their query and simply moving through the motions.
Tailored responses are essential to improving customer relations and working towards a positive outcome for your customer and your business.
Don't challenge your customer
Challenging every negative review without apologising can send the wrong message to prospective buyers. Taking accountability and showing genuine concern for the problem will show your business cares about improving your customers' experience and leave a positive impression on future customers.
Of course, sometimes reviews are unjustified – for example if you have no record of their purchase or if you suspect they are a bot. In these cases, it can be helpful to politely reply apologising, but mentioning that you have no record of their purchase and to email their order number.
It's sometime possible to report these reviews to the review platform, who can assess and take them down.
Don't buy positive reviews
Consumers are becoming more adept at identifying fake reviews, and so are search engines.
Don't fall foul of search engine algorithms by purchasing positive reviews – as this can impact your website's visibility and integrity.
Instead, focus on obtaining genuine feedback from real customers to establish that all-important trust.
What to do if you get a bad review
Respond to all reviews – and promptly
Leaving a review too long without responding increases the chance of other potential customers seeing it and letting it influence their decision when considering your business.
The sooner you act to resolve the problem, the less impact the negative review will have as prospective customers will see that the issue has been addressed.
We recommend setting up alerts on popular review platforms and Google My Business to notify you as soon as a customer leaves a review – this way you can take prompt action should it be negative.
Take action and responsibility
If a customer is left satisfied after their complaint, it's possible that they withdraw their review and even replace it with a positive one.
Make sure to acknowledge the problem and show your commitment to resolving the issue. Whether it's a customer dissatisfied with a product, or a client who received unsatisfactory service at an appointment, make sure to find a resolution. This could be as simple as an apology or discount code for future purchases, or as much as a refund or full investigation into the issue.
A reputation is more important than a quick sale, and in the case of repeat purchases, it is sometimes helpful to provide a refund and commit to improving the process next time so that the complaining customer is satisfied and more likely to return.
Delighting the customer should be the aim – and the short-term loss is worth it for the long-term win.
Take the conversation offline
We recommend providing a number or email address the customer can contact to resolve the issue further. This ensures private information is kept secure and the problem is resolved without spamming review platforms.
Send individual responses
A copy and pasted reply to every review shows minimal effort and attention. Instead provide personalised responses to each customer.
This doesn't have to take long, especially if you establish a response formula which you can tailor to each review to make the writing process quicker.
A response formula could include:
Thanking them for their feedback

Apologising and acknowledging the problem

Including a customer service number or email address for them to contact

Signing off with a name and saying you want to make it right
​​​​​​​
Campaign to get more reviews
If you're finding that the negative reviews are exceeding a reasonable ratio (remember 15-20% is the sweet spot), you should campaign for more positive feedback.
This can include incentivising customers with discount codes or contacting specific customers who you know have had a positive experience.
This isn't about manipulating your review portfolio, but if you know that your business has more to offer, take action to dilute the damage of the negative by increasing the positive.
If you have more negative than positive reviews, then it's probably time to reflect. Creating a feedback loop through which to evaluate negative responses to your product or services is vital to business growth.
This can be as simple as putting time aside each quarter to reflect on feedback and working with your team to find ways of improving your business' offering. Incorporating feedback into your business's processes ensures you stay committed to improving your customers' experience.
Final word
Negative reviews are disappointing, but not always detrimental to your brand. It's important to approach negative feedback appropriately and effectively to minimise impact and maximise customer experience.
If you are concerned about the impact of negative reviews on your business, TDMP offers reputation management services to audit and repair a brand's reputation through strategic insights and digital reputation monitoring.
Contact us for a conversation to understand your needs.