We're living through tumultuous times, with the threat of a recession looming and a perfect storm of 'polycrises' taking place globally – marketers and businesses are under pressure to make their budgets go further.
Economists predict the UK economy will experience a 0.7% contraction in 2023, and this, paired with reports of lagging consumer confidence and business output, are amalgamating into early signs of panic within the marketing industry.
As a result, ROI has never been more important. Keep reading as we discuss our tips for making your PPC budget go further - in a recession and beyond.
Table of Contents
Should you cut back ad spend in a recession?
The first instinct for many businesses when faced with probable financial difficulties is to cut paid marketing activity. However, industry experts alike agree this is a mistake.
At their latest Marketing Summit on 2nd Feb 2023, Meta suggested that the advertising industry historically overreacts to market trends – if positive growth is predicted – ad spend is much higher, but if flat or negative, spend tends to be scaled back significantly.
Despite bleak reports of a lagging economy, general increase in costs of living, and subsequent reduced purchasing power – Meta paints a more optimistic picture, predicting digital ad growth will be conservative – but not non-existent.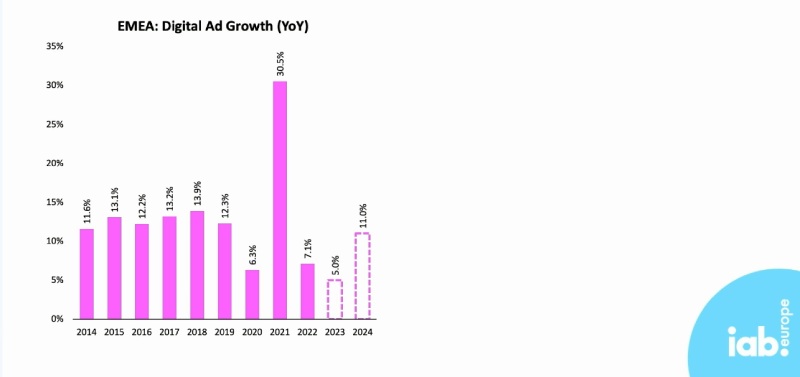 This, paired with the opportunity of increased ad-space in light of consumers reportedly cutting back on subscriptions in 2023 – is reason enough not to panic.
In fact, some businesses with a sound financial footing increase ad spend in economic downturns when many competitors cut back – enabling them to increase market share, brand awareness, and reach new customers – all with low competition.
The key takeaway is that instead of being cut, PPC budgets need to work as efficiently as possible to weather economic difficulties.
How to get more out of your PPC budget
With the above in mind, here are our key tips to making your PPC budget go further.
1. Improve your conversion rate
Generating revenue is the goal of all marketing activity – and when faced with financial difficulty, making your PPC campaigns work as efficiently as possible is essential.
If concerned about PPC budget, the first place to look is at your conversion rate and cost per conversion.
If you currently have a conversion rate of 10% and a cost per conversion of £100, simple maths shows that increasing your ads' conversion rate to 20% would reduce cost per conversion to £50.
| | |
| --- | --- |
| Conversion rate | Cost per Conversion |
| 10% | £100 |
| 20% | £50 |
A great way to do this is through landing page optimisation. This includes thinking about your customers and their needs – and adapting your pages using UX principles and usability best practices to ensure they encourage as many conversions as possible.
This can be ensuring you include keywords early on the page, adding trust signals like reviews, brand logos, and success rates, and keeping CTAs consistent.
Find out how to optimise your landing pages for better conversions here.
The proof: At TDMP, we have successfully optimised a range of landing pages for our clients, including a recent campaign where we created targeted, optimised landing pages for a search campaign, reducing CPA by 75% and increasing conversions by 200%.
2. Track offline conversions ​​​​​​​
Integrating CRM data and pulling offline conversions into Google Ads is key to optimising PPC campaigns to be as efficient as possible, especially if utilising smart bidding.
A study from 2020 found focusing on the Lead-To-Sales journey in digital marketing strategies has proven to increase incremental revenue by 20% and increase cost efficiency by 30%.
The reason for this is relying on Google Ads data alone results in your bidding strategies only optimising for the first step in the sale process, Leads. With a 5% Lead to Marketing-qualified lead conversion rate, 95% of the conversions your PPC campaign has generated are irrelevant. A huge loss when budget constraints are at hand.
The study identifies typically 4 stages in a sales funnel (below). In this example, by not identifying (tracking) the leads that became qualified through the stages of the sales funnel, missed the opportunity to fine tune the targeting strategy down to the quality leads.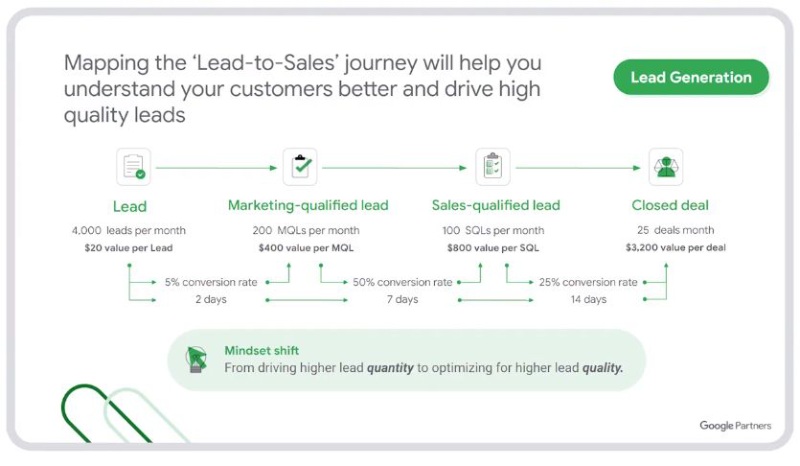 By pulling in data from your CRM into Google Ads, you can shift the focus of your smart bidding strategies away from the quantity of conversions to the quality of conversions. Your bidding strategies can move away from focusing on Leads to focusing on Marketing-qualified leads, Sales-qualified leads, and Closed Deals.
How to do this
Which step you chose to focus on depends on the amount of conversion data you have at each step.
If your campaigns generate 1 Closed Deal a month and 50 Sales-qualified leads, there's not enough data available for smart bidding to sufficiently optimise campaigns for Closed Deals. However, there will be enough to focus on Sales-qualified leads.
Salesforce has a built-in integration system – making it seamless. Google also provides guidance here.
The proof: Shifting the focus from quantity to quality of conversions can improve your ROI significantly. By following this, we have seen some of our accounts cost per closed deal decrease by up to 66%!
3. Review conversion tracking
Paying close attention to your conversions and conversion rates are essential when facing financial uncertainty, and it's important to ensure your conversion tracking is as accurate as possible.
Website changes, new contact forms, new conversion methods, and website code changes can all lead to conversion tracking not working correctly – ultimately resulting in a skewed representation of campaign performance.
Periodically testing conversions to ensure they're working is important to ensure you have a clear picture of ROI so you're able to make adjustments with maximum insight.
Find out more about attribution with GA4 here.
4. Review channels ​​​​​​​
Another way to minimise budget fallout is to review platforms and channels. What worked a few months ago might not be the most effective way to market your business now. With consumer behaviour changing rapidly in light of economic uncertainty – now is the time to review the efficacy of your PPC channels.
Take this recent report: Google Ads' Cost Per Lead has increased for an incredible 91% of industries YoY. The below table shows CPL increase on Google ads, with furniture and arts & entertainment some of the categories experiencing significant increases in CPL YoY.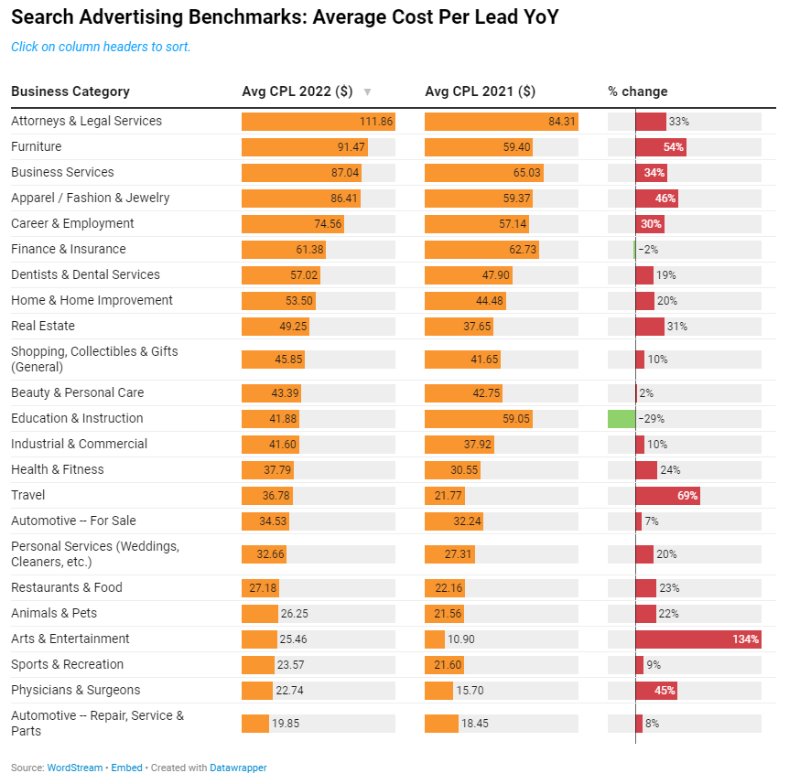 All of this is to suggest that considering alternative channels could be the way to combat budget pressures.
Microsoft ads for example, may not compete with Google ads' volumes, but their lower cost per leads could be the difference between proving your PPC's ROI and not.
Likewise, paid social could be the best channel to reach your audiences right now – with LinkedIn offering an extremely engaged audience base and an average conversion rate of 13% for lead gen forms, or Meta's platforms (Facebook, Instagram, Messenger, WhatsApp) and TikTok providing high engagement and awareness at relatively low CPC.
5. Reduce wasted spend​​​​​​​
Reducing and ideally removing wasted ad spend is perhaps the best way to ensure your campaigns perform efficiently in an economic decline, and studies show companies waste 15% of their budget on irrelevant keywords.
A way to combat this is to carry out regular search term reviews for your campaigns.
Your search term report will show you terms that your ads have appeared for. By reviewing it, you can identify search terms that are high spending and haven't resulted in conversions. From this report you can also remove irrelevant search terms, even if they're not high spending.
Excluding these terms that are leading to high wasted spend will allow you to save budget and streamline your PPC activity.
6. Review traffic spend / placements ​​​​​​​
An easy way to eat through budget and reduce your conversion rate is to let your campaigns appear for placements that aren't conducive to conversions.
For example, if search campaigns are appearing on Google Search Partners and Google Display Network, this can sometimes lead to a high amount of wasted spend.
We have seen this with several client accounts, with Google Search Partners and Display network misleadingly resulting in a low avg cost per click, but significantly larger cost per conversion and much lower conversion rate.
See below for a client's performance on Search Partners and Display Network.

In summary: Make sure to review placements and don't rely fully on cost per click.
7. Optimise your ad schedules​​​​​​​
Finally, a way to streamline campaigns and shed any budget wastage is to review your ad schedules to ensure you aren't burning through media budget at dead times.
The obvious approach is ensuring your ads aren't running throughout the night – 3am is unlikely to attract many customers! But if budgets are limited and you're needing to think about ways to streamline your campaigns, consider the way your business operates and cut back on ad spend at low-conversion times.
Take an accounting firm for example. If lines are only open 9am-7pm and calls are your key source of revenue, customers searching 'accountants near me' at 9pm aren't going to be able to access your service and you won't get the sale. If you're using conversion bidding strategies, the strategy will waste money attempting to convert outside of these hours.  
With this in mind, cutting back on ad schedules that don't align with your peak conversion times is a great way to maximise your budget and ensure you are getting the best conversion rate possible.
Final word
These are just a few ways to increase the ROI of your PPC campaigns, and we recommend reviewing your campaigns and applying our tips over the next few months to mitigate any loss to ROI.
If you're concerned about the efficiency of your PPC campaigns – or unsure how to weather your marketing in an imminent recession – contact us today.