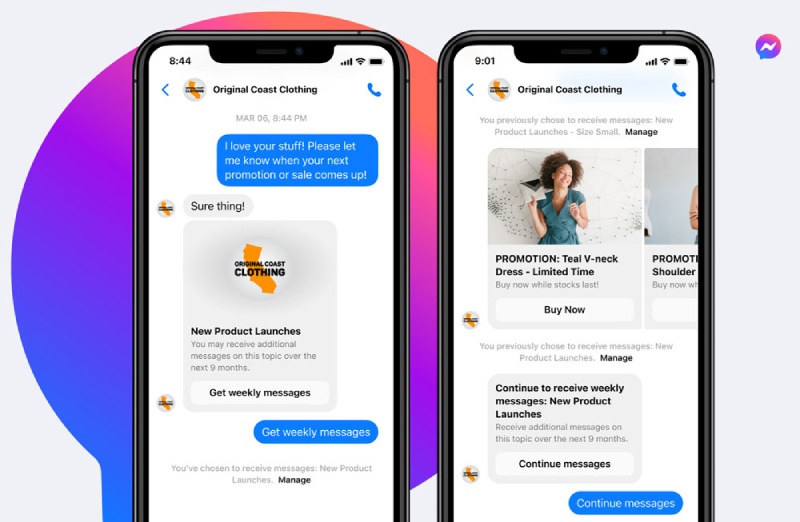 Meta has announced the launch of their latest innovation, Recurring Notifications: 'Automated Messages to delight customers on Messenger'.
The new feature enables businesses to send communications to customers who have opted in to them, and allows for a wide variety of topics and messaging formats.
Keep reading as we highlight the key features, the benefits, and what this means for email marketing.
Recurring Notifications: what are they?
This latest feature from Meta – which will be available on Facebook and Instagram – enables businesses to send relevant message notifications to customers who have opted in to the feature, keeping them warm and engaged.
For now, Meta are trialling this feature for free to businesses, however they have made it clear that this will be an optional premium feature which businesses will have to pay for. They are yet to release pricing models.
What are the key features?
Businesses can use Recurring Notifications to:
Send tailored and timely messages that drive action

Create personalised messages about a chosen topic – they use an example of a shoe shop who can notify their customers when their size is back in stock

Help customers enter a discovery phase by sending product recommendations, brand inspiration content and newsletters

Encourage consideration phases with product alerts, behind-the-scenes news, pre-sale alerts, recommendations based on previous purchases

Use conversion tactics in the form of discount codes, promotional content, loyalty rewards and partner offers

Increase engagement with tips, community stories, product service reminders
Users can choose the frequency at which they receive communications – and businesses can deploy them daily, weekly, or monthly, with the ability to periodically reconfirm their interest in receiving notifications.
Businesses will be able to send up to 10 opt in invites to each user across a 7-day period.
Previously Meta only allowed businesses to contact customers through their Messenger Platform if the customer had contacted them within a 24-hour time frame, and only if it fell into the specific message tags such as a post-purchase update. After the 24 hours was up, the company would no longer be able to contact the customer and the opportunity to contact them with conversion tactics such as discounts was non-existent.
The Recurring Notifications feature removes these barriers and allows almost endless possibilities for communication.
The benefits of Recurring Notifications
Meta suggests that their new feature will enable businesses to:
Drive engagement

Generate leads

Boost sales

Grow retention
With easily customisable features, Meta states that this type of communication will deepen customer relationships for businesses as they reach them across different customer journeys.
Personalisation at scale
Another key benefit that Meta fails to mention is personalisation of messages at scale. The intimacy of users receiving messages from brands in the same place many chat with their friends, for example, is an interesting USP.
Although the Messenger Platform is already used by larger brands for order queries and customer service, the option for sending topical information and recommendations to customers in a more casual setting is invaluable.
Are Recurring Notifications the new email marketing?
With over 81% of businesses using email marketing to reach and retain customers, email is by no means dead. However, with the enduring challenges of deliverability, and an average open rate of 16.97% in 2022 - down from 21.33% in 2019 – the channel is showing signs of slowing down.
As businesses fight for their customers' attention in an undeniably saturated arena – and with users becoming more adept at filtering out marketing messages (or more fatigued), Recurring Notifications could be the latest tool to cut through the noise to increase customer engagement, loyalty, and conversions.
The power of personalised customer communication is clear, and companies like Meta are quickly realising the value of selling proximity to customers.
Keeping customers where you can see them
In light of Google's announcement of the end of Universal Analytics in 2023 (and with it the spoils of 3rd party cookie tracking), the importance of keeping customers close and where you can see them is paramount.
1st party and zero-party tracking will be important for marketers in the coming years, and features such as Recurring Notifications helps businesses to keep leads close and engaged.
Our thoughts
This new feature makes sense. With the increasing saturation of the email marketing channel, it's no surprise that businesses like Meta are finding innovative new ways to replicate this highly engaged channel for their own gains.
We not only see Recurring Notifications being a useful alternative to app push notification features enjoyed by larger brands, but the simplified, shorter messaging format will likely be useful to companies who lack the content marketing resources to establish a detailed email marketing campaign. Not to mention the personal element of receiving messenger notifications.
A bakery could send notifications alerting customers to new flavours or products in an instant message. Seasonal deals could be sent or the bakery's 'top picks' for the week – like a recommendation from a friend. Loyal customers could be kept up to date with behind-the-scenes content – such as a 'day in the life of a baker', a video showing how they make their cakes, or where they source their ingredients. The possibilities are really endless.
We think especially in its early free-trial stages this could give brands a cutting edge against the vast competition via other channels such as email and social media, but it will be interesting to see the business and customer uptake in the months to come.
---
At TDMP we provide high-performance SEO, PPC, Content & Social Media Marketing campaigns to a wide range of clients. For more information about our services or for an informal chat, contact us here.
Read more about Meta's Recurring Notifications here.