On 31st January 2023, the SEO platform Semrush announced a 'major' update to the way they calculate their authority score.
Adding new weighted factors to their calculations, the changes have received mixed reviews.
Keep reading as we explain the changes, and the importance of approaching any subsequent disavowal activity with caution.
What is authority score?
In short, authority score is a metric developed by SEO software providers such as Semrush, Moz and Ahrefs, to assess the trustworthiness of a website and indicate the likelihood of a website ranking in SERPs.
It does NOT directly impact your website's rank or visibility but provides an indicator of website performance. Ranking your site from 1-100 – the higher the number, the more authoritative your website is considered and the more likely it is to rank.
Why is it important?
Google doesn't provide performance indicators of how likely websites will appear in SERPs, nor do they provide backlink insights – of which are considered a significant ranking factor.
As a result, SEOs rely on software to fill the gaps, using the score to assess backlink hygiene and actions to take – including whether to request a backlink from a website, or whether to disavow toxic backlinks. If a low score, then you can assume that your backlink profile needs work.
So what's changed at Semrush?
Before, Semrush's authority score was based on the number and quality of backlinks pointing to a website – with some organic search data and traffic data mixed in there.
Now, authority score is based on:
Link power: Based on the old system of calculating the number and quality of backlinks your site has

Organic traffic: How much organic traffic your site is receiving

Natural profile: Whether the website feels like it was designed for people, not search engines – this measurement includes ratio of nofollow to dofollow links
Semrush have stated that organic traffic is now a much bigger part of the calculation, basing the score on how much monthly organic traffic goes to a domain via Google search. In short, the more organic traffic, the more authority.
The below image depicts the weighting of each of their factors when calculating authority score.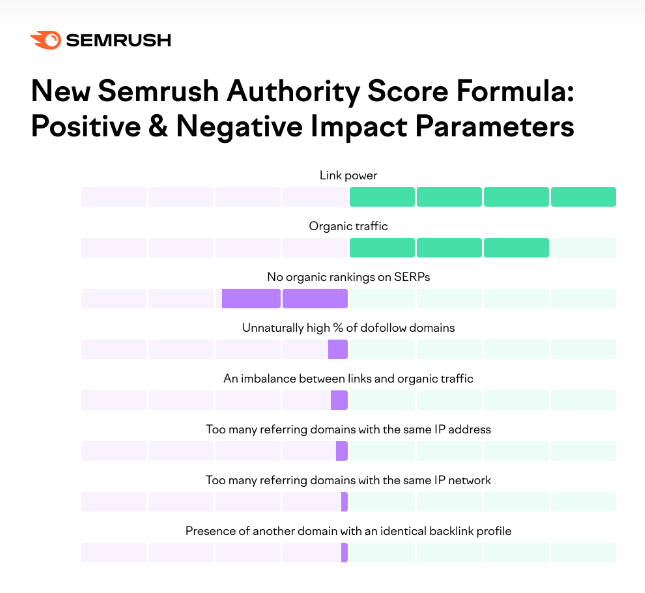 Why have they changed it?
Semrush cite the desire to combat 'manipulation of scores to make sites appear to have more authority than they really do' as the driving force behind the change, although it's unclear exactly how sites were previously able to manipulate their scores.
They also cite keeping up with some of Google's latest updates – including the Helpful Content update (ensuring sites are create for humans, by humans), and the Link Spam Update (which neutralises the impact of unnatural links on search results).
How could this impact visibility & ranking?
Whilst authority score doesn't directly impact your website's rank or visibility, it does provide a basis for deciding whether to carry out backlink disavowal – which does directly impact ranking.
Google's advice is to only use disavow as a last resort if you think there is a deliberate link attack on your website. Most spam sites Google knows about before you do, and they build in factors to protect you.
Despite Semrush's desire to keep up with Google's updates – one concern is that the new scoring system could skew the severity of a toxic backlink on a site that's otherwise healthy, with a toxic backlink resulting in a whole domain being considered toxic.
This leaves no option but to disavow all links from an otherwise healthy domain – because of one toxic link – therefore directly impacting your website's visibility and stability.
Since the changeover we have noticed clients' authority scores fluctuate significantly – with significant drops or increases – regardless of size, industry and backlink profile.
For the decreases, Moz and Ahrefs' scores remain much higher, and marketers explaining this drop in authority score to clients could lead to excessive disavowal – based on the new score's recommendations.
Below is an example of a client's score across Moz and Semrush:
| | | |
| --- | --- | --- |
| Authority metrics | Moz | Semrush |
| Authority score | 56 | 40 |
| Linking Root domains | 3.5k | 3.7k |
| Ranking keywords | 1.5k | 16.5k |
| Spam score | 3% | 3% |
The table also indicates Semrush is basing their score on all ranking keywords rather than just backlink anchor keywords as before (and like Moz and Ahrefs continue to do). As a result, users who follow Semrush's instructions to disavow based on these new barometers could begin losing rank quickly.
Key takeaway: approach disavowal activity with caution
Our advice to any SEOs is to approach drastic changes in authority score cautiously. We are constantly analysing the changes in depth before making assumptions or taking unnecessary action – and we recommend others do the same.
We also suggest referring to alternative Authority Score measurers such as Moz and Ahrefs to provide a more comprehensive picture of performance before carrying out any disavowal.
Finally, it's important to remember that authority scores are comparative – meaning they depend on context. If a small local business, then an authority score of 40 will be excellent for you. But a large news site – this would be a low score.
As ever, at TDMP we will continue to do our own research & development to accurately ascertain performance and ensure visibility and rank is maintained for all our clients.
We are still assessing the changes and will update this post accordingly to provide the most accurate information for readers. 
---
If you're concerned about your website's authority score, or unsure where to start with increasing your website's visibility – contact TDMP today.
We can transform your organic presence and drive results with our high performance SEO services.