If you're in the marketing sphere, you will have likely heard how Threads, Instagram's new Twitter rival, is taking the social media world by storm.
With over 100 million signups in 7 days, the unprecedented performance is surprising even Meta themselves.
But with another platform to add to your social repertoire, businesses and marketers are asking – do we really need to be on Threads?
In this article we discuss everything you need to know, including the potential opportunities Threads presents to businesses, and whether you should be using it as a social channel.
What is Threads?
Threads is a text-based social media platform, with the ability to publish text-based posts, and include images, videos, or links. Users can start conversations, keep up to date with news, and retweet (or 'repost') posts to their feed. Sound familiar?
Launched on 5th July 2023, 10 months after Elon Musk's takeover of Twitter, the layout and functionality is almost identical to Twitter.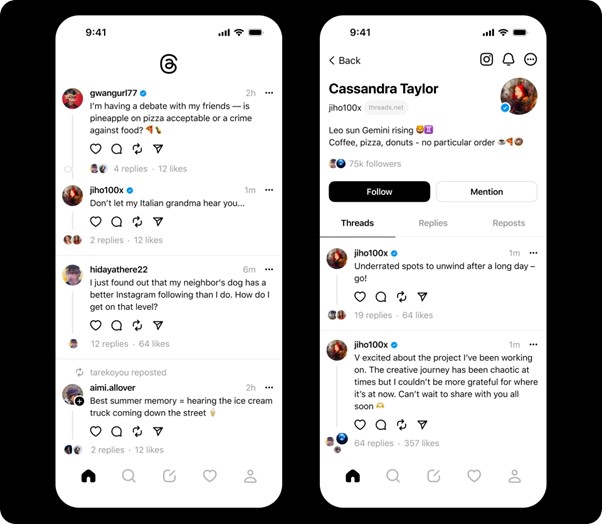 Do we need another Twitter?
Having made somewhat controversial changes to the platform since Musk's takeover, Twitter's popularity has dwindled amongst many users, or at least enough for Meta to identify an opportunity in the market to compete with their own text-based social app.
It's reminiscent of Instagram's introduction of Stories to the app in 2016 – a move which which directly challenged Snapchat and slowed their growth by an incredible 82%.
If the number of new Threads users is anything to go by (an eyewatering 100 million in 7 days), it's clear a Twitter alternative was wanted.
How does Threads differ from Twitter?
At first glance, Threads appears to be an almost-carbon copy of Twitter, but there are a few key differences to note.
Threads
Twitter
500 post character limit
280 post character limit
No paid ads (yet)
Paid ad options
Can import followers from Instagram
N/A
Verified status carried over from
​​​​​​​Instagram
Verified (blue tick) can be purchased or given to
high profile accounts
​​​​​​​​​​​​​​Will Threads be as popular as Twitter?
Threads has already earned itself the title of fastest growing app in history, with over 100 million signups in a week.
This can largely be attributed to Instagram's already well-established userbase. With over 1.2 billion monthly active users (contrasted with Twitter's 450 million) ready to be filtered down the conversion funnel, Threads was the perfect example of remarketing done right. With a highly engaged userbase and simple interface enabling users to set up a Threads account in seconds - it's no surprise that uptake has been impressive.
Whilst it's too soon to speculate on the longevity of Threads or its claim over Twitter, brands using it have already seen excellent engagement with posts. As reported by Website Planet, '87% of the brands analysed generated more likes on Threads than on Twitter', with a higher engagement rate too (0.45% vs. 0.02%).
Meta are also clearly using their existing userbase to their advantage, and are aware that they need as many high profile users to sign up as possible to spark interest.
According to sources, Meta sent prerelease Threads links to high profile Instagram users, along with guidance to post twice a day up to the release to get used to the new app – and to save their best content for public launch day.
All of this is to say that Meta clearly have a gameplan, and it seems to be paying off. Pair this with Twitter's dwindling popularity, and it's possible that Meta could replace Twitter as a text-based social platform. Only time will tell.
What marketing opportunities does Threads present?
1. Casual community building in a relaxed setting
​​​​​​​Threads is by no means a curated space yet, which means there is plenty of opportunity for brands to deepen their relationships with their audiences in a casual way. Brands have the opportunity to showcase their personality on Threads, using it as a space for community that Instagram can't provide as much. Try starting conversations and using humour to engage with and build your community.
2. Opportunity for B2C brands in particular
Being linked so closely to Instagram, Threads makes the most sense for B2C businesses. Instagram is popular amongst B2C organisations who want to showcase a curated, high-quality portfolio of products or services to a large userbase. Media and entertainment also work well here, providing visually stimulating content and inspiration to audiences. Because uptake of Threads will likely be users from Instagram, it's likely that B2C brands will be the most relevant for the app.
3. Repurposing Instagram content is super easy
Likewise, the close connection Threads has to Instagram makes repurposing content easy. Similar to the Facebook / Instagram connection, sharing posts across all 3 platforms is made incredibly easy by the streamlined interfaced – meaning brands don't need to spend valuable time editing content to suit each platform.
4. An audience is already there
Being a new app, concern may be that there aren't enough people on there yet for it to be worth your time. But if the reports of over 100 million users in 1 week are enough to go by, it's safe to say that there is an audience ready and waiting for you on Threads.
5. Make the most of the hype & high engagement rate
The hype that has shrouded Threads in the last few weeks, and the current lack of dormant or spam accounts, provides an excellent opportunity for brands to reach highly engaged audiences on a new and exciting platform. The Threads algorithm is also pushing accounts that users aren't following onto their feeds – much like the Instagram algorithm – meaning there is plenty of opportunity for users to discover your business, whether they follow you or not.
6. Longer character limit means longer posts
Twitter's 280 character limit was often a griping point for brands (and users) wanting to communicate more detail in their posts. This often resulted in 'Twitter threads' being created, a chain of posts providing more detail than the mere 280 characters could communicate. Now Threads (perhaps not-so-coincidentally named), allows users to post up to 500 characters – allowing for more detail to be communicated to audiences and providing more value for less admin.​​​​​​​
7. Linking to website content is easier than ever
​​​​​​​Unlike Instagram which aims to keep users on the app as long as possible, and which makes linking to external content difficult (e.g. 'link in bio' and lack of hyperlinks) – Threads allows brands to link to their own website content in posts, making it easier to drive organic traffic to your website and deepening those customer relationships.
Should my business be on Threads?
If we have learnt anything from social media over the last few years, it's that brands in any industry can perform well on any platform if they have the tenacity and creativity to give to the channels regularly.
That being said, with a plethora of social media apps to stay active on, it's often not realistic or beneficial for your business to be on every platform.
So should your business be on Threads? The answer to this question depends on a few factors:
Is your audience on Threads? Think about the type of users likely to be on Threads (likely Instagram users)
Are your competitors on Threads? Conduct research to find out
Do you have the resources to provide the necessary maintenance to a new social media application? E.g. creating and posting regular content, responding to comments, etc
Does your brand suit the casual, conversational space on the platform?
Does your brand have something to say or value to give your audience?
Can you commit to posting regularly?
If yes to these, then it's likely that Threads could be a good option for your business.
We expect businesses within B2C industries, including retail, ecommerce, consumer goods, and fashion will perform well on Threads, as well as those within entertainment industries, travel, news, media, and tech. But don't forget that any brand can do well if they commit to posting regular, engaging content that is tailored to their target audience. 
Remember that apps change over time, and audiences and ways of communicating will likely transform and develop – so if it isn't the right option for your business now, that doesn't mean it won't be in the future.
Final word
Threads is an exciting new addition to the social media world, and it could be a great opportunity for your business to build up a following of customers who feel connected to your brand on a deeper level.
If you want to discuss the opportunities for your business on Threads or any other social media platform, contact us today.