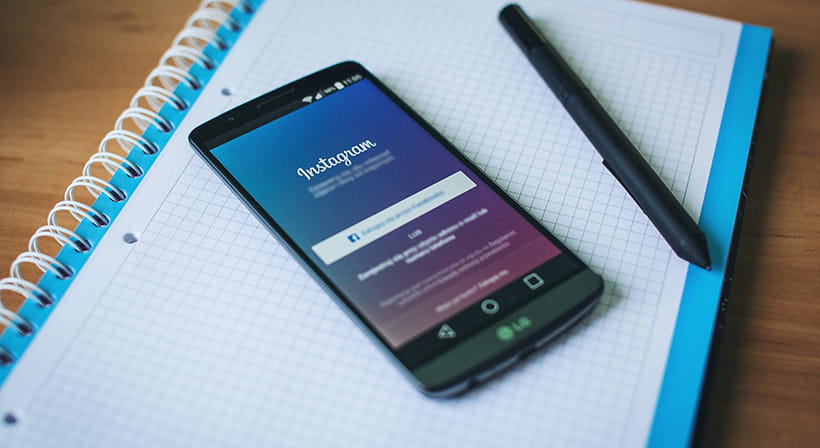 With over 1 billion users, Instagram is the world's fastest growing social network. Millions of businesses use Instagram as part of their marketing strategies – to increase brand awareness and as a way of converting passive 'followers' into customers.
Instagram is a mobile-focused, visual social media platform. With the right plan and content, it can be used to connect with target audiences – it's said that brand posts on Instagram achieve 10 times as much engagement than those on Facebook.
How Instagram can help you achieve your marketing goals
According to Instagram, 80% of its users follow at least one business profile, with over 60% hearing about a product or service for the first time through the platform. With an optimised business profile, your products and services can be discovered by thousands of potential customers.
We recommend Instagram is considered if one of your objectives is:
Increasing brand awareness
Driving traffic to your website
Increasing sales
Strengthening customer relationships
Maintaining a positive company reputation
What to include in an Instagram content plan
When using Instagram for business, it's important to approach your customers in a consistent style which is in accordance with your brand's personality and values. The types of posts you publish should vary, and should follow the 80/20 advertising rule. This rule suggests that only 20% of your social media content should be directly about your brand, with the other 80% dedicated to content that really interests your audience.
Implementing a range of different types of outreach strategies and content will achieve the best overall results.
Exclusive Offers and Discounts
Offers, discounts and promotion codes work well on Instagram (and most other social channels) as they incentivise your target audience to 'take action'.
To make sure you can track the impact of an Instagram only discount, make sure you make it unique from any other discounts available on other channels – this way you'll be able to keep track of conversions even if they are not direct (i.e. a customer sees the offer on Instagram but purchases through an organic search).
User-Generated Content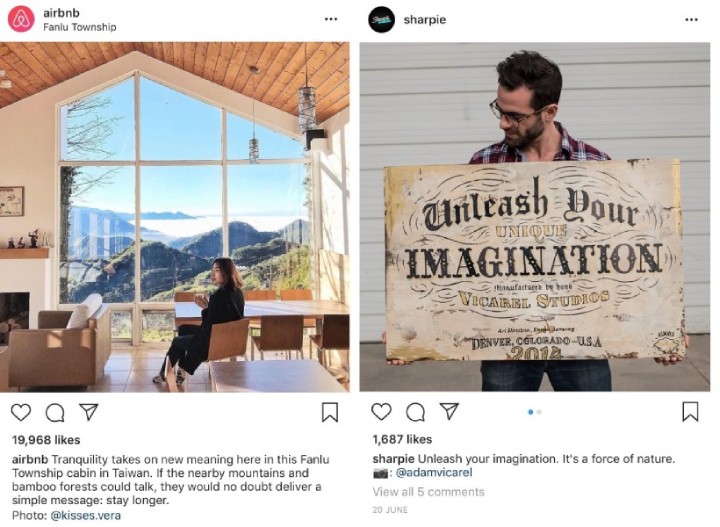 As a visual and mobile-first social channel – the platform is filled with user content which, with the right approach, can be used by brands.
User-generated content (UGC) comes in many forms and can be incredibly positive as it can act as a visual review of your product or service, as the examples above prove. There is an etiquette which needs to be followed to make sure any requests made to re-post content does not encourage any negative backlash.
Instagram UGC Etiquette:
Always ask the original content creator for permission before using or reposting an image or video
Always credit the original creator by tagging them correctly
Always make sure it's clear the content came from another user – don't try and hide that it's someone else's content
Do not re-edit the image or video you wish to share
Do not only share UGC content – it should only be a small part of your overall output
Influencer Campaigns
'Influencer' is a term often associated with Instagram. The word is defined as 'someone who affects or changes the other way people behave, for example – through their social media'.
When it comes to brands using Instagram, working with influencers is a tactic used by many, as they often use channels to share their everyday lives, what they eat, buy and what products they are enjoying at the moment.
The most popular influencer campaigns on Instagram:
Sponsored posts – Content is created by influencers, featuring your product.
Branded content – Content is created and published by you but involves influencers.
Reviews – Influencers review your products and publish it to their audience.
Brand rep programs – Each influencer offers their followers a custom discount link or code; for each conversion they drive you pay them a small percentage.
Giveaways – Send out free products to influencers to organize a giveaway contest.
Instagram Stories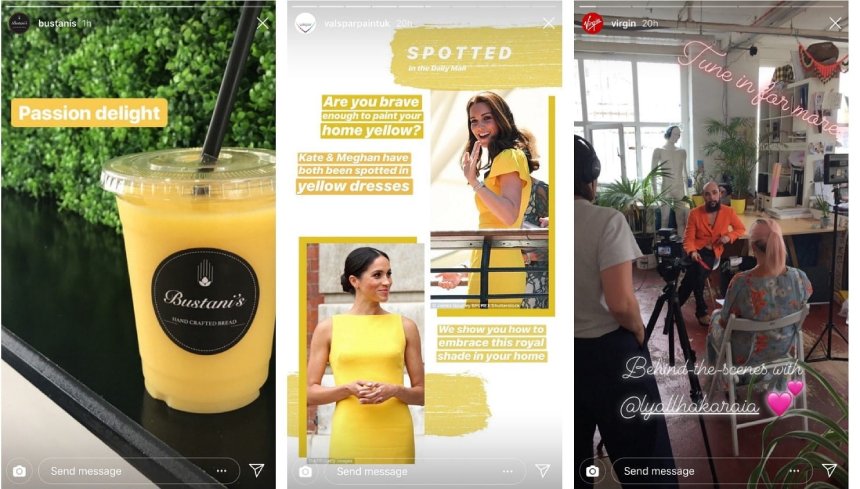 Instagram Stories is a tool used to capture behind-the-scenes action in the form of photos, videos, 'boomerangs' and live video. Content posted on the Stories feature is live for 24 hours and does not appear on the profile grid or main feed.
Your brand's story and profile can become more discoverable using hashtags and location tags - other users can view it even if they don't follow you. Other features include the pen tool to 'doodle' on your photo, the option to add stickers, use face filters, write text and add GIFs.
Competitions and Giveaways
Competitions can deliver impressive results if you are aiming to boost followers and brand awareness, as they motivate users to interact with your profile. It was found that Instagram accounts that hold contests achieve a 70% faster follower growth, meaning a more engaged audience for your content.
Ensure you make it easy for people to enter - ask people to like, comment, or tag others on your posts to generate the largest reach. Avoid asking people to share your photo on their profile to enter; fewer people are willing to feature external content on their feed.
Products and Previews
Instagram allows you to showcase your new and existing products & services, to thousands of potential buyers. Instagram users can make their own decisions about your products without feeling pressured.
Although promotion can help drive sales, avoid turning your feed into an over-promotional set of display ads, and instead find a creative way to incorporate your brand into images people want to see.
Paid Advertising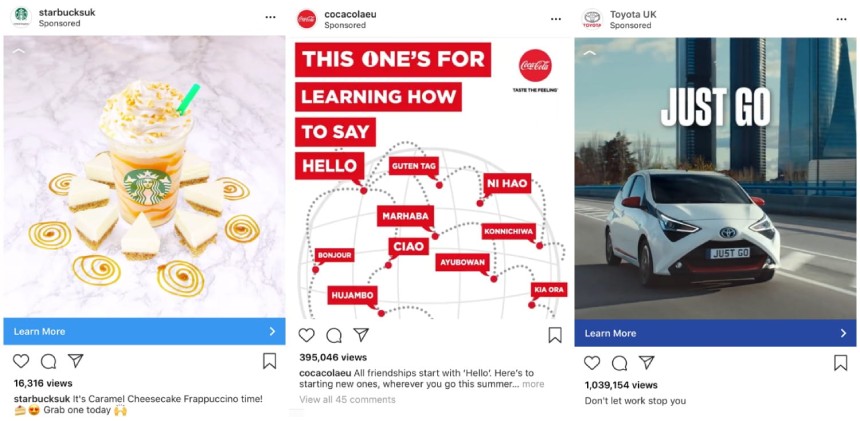 Instagram ads is a tool that allows businesses to reach a larger and more targeted audience. The ads manager can be accessed through Facebook's self-serve advertising platform, where you have full control of your ads, how they appear and who sees them.
There are multiple ways of running ads on Instagram, and can be used to grow brand exposure, generate new leads, drive website traffic and convert leads. You can also add a call to action button on the ad.
Types of Instagram Ads:
Photo ads – displayed as a single photo in landscape or square format.
Video ads – up to 60 seconds of video in a landscape or square format.
Carousel ads – features between 2 and 10 images which users can view by swiping.
Slideshow ads – made up of a series of photos which plays as a video.
Stories ads – share photos or videos that last 10 seconds or less.
Should every business be using Instagram?
As with any type of marketing, Instagram is not the right channel for every type of business. It's important to take into consideration the nature of your product and your target audience – are they likely to use Instagram?
Highly visual businesses receive the best value from Instagram – as they have the best content to share on the channel. Travel, beauty, fashion, home décor and anything related to the sports industry is likely to do well on the channel as they are popular with users looking for 'visual inspiration'.
There is a misconception that only businesses with physical products do well on Instagram, this isn't true – with many brand and service businesses (think Uber) using Instagram to connect and convert their target audiences.
How we can help
If you're considering or interested in using Instagram marketing as part of your digital strategy, don't hesitate to contact us. With the right approach, we really do believe Instagram can be a successful platform - providing brands with the opportunity to connect and interact with their customers. In addition to this, the creative challenge of the platform provides the opportunity for brands to stand out and do something different.