Supporting Ben's Cookies international digital platforms and campaigns
Implemented bespoke online ordering system
Reduced reliance on third-party apps
Ordering system analytics – for on-going monitoring
Customer data capture for future marketing
Ben's Cookies
Ben's Cookies is a luxury cookie brand that has over 50 stores in the UK, Middle East and Asia.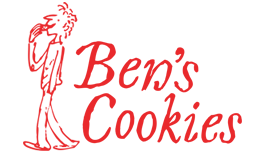 The brief
As a result of COVID-19 Ben's Cookies needed to improve the online systems they used to provide customers with the ability to order cookies for delivery.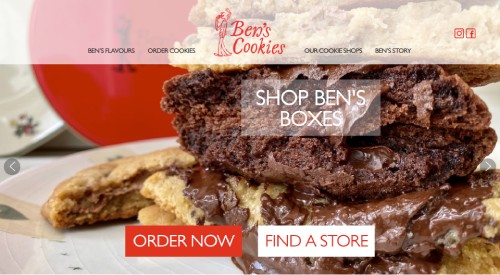 The strategy
Initially, our focus was to improve the Ben's Cookies UK website delivery page – as the page needed to direct customers to the right third-party delivery partner based on their location. To provide this functionality TDMP created a new location focused delivery page that directed customers to the right delivery partner based on their device location or the postcode they entered when visiting the page. This was successful – and helped to improve the user experience on the website.
Following this success, TDMP worked with Ben's Cookies UK to design and develop a bespoke online ordering front end and back end system. The new system allowed Ben's Cookies to take online orders on their website – reducing and removing the need to rely on third-party food delivery apps.
TDMP continues to provide on-going support, and works closely with the Ben's Cookies UK operations team to continually update the system to ensure it is efficient, and to grow the system as required.
The reason we chose TDMP over other companies was their value for money, and their great expertise of PPC, SEO, Social Media and Website services. TDMP has been flexible and accommodating when working with us, and they get the job done immediately. They really took the time to get to know our organization and gave great advice for what would work best to meet our goals and objectives. They know their stuff and are a great group of people!
Mrwaa Ahmad, Ben's Cookies Dubai
Case studies
Find out more about our approach and successes with our clients across a number of sectors and channels.